This post is also available in:

Melayu (Malay)
Understand the Jurisdictions Setup Requirement Before Proceed Your Register Company in South Korea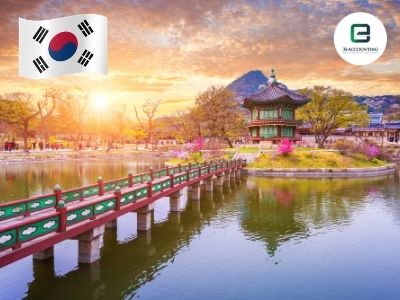 As an East Asian country nestled between two great powers – Japan and China, South Korea occupies the southern portion of the Korean peninsula. South Korea is bordered by the Democratic People's Republic of Korea (North Korea) to the north, the Sea of Japan to the east, the East China Sea to the south, and the Yellow Sea to the west while the Korea Strait separates the country's southeast region from the Japanese island of Tsushima.
South Korea is a hi-tech economy and a world leader in electronics manufacturing, which includes mobile phones and semiconductor chips. In addition to that, the EU-South Korea Free Trade Agreement (FTA) that came into force in July 2011 has further strengthened South Korea's position as one of the strategic locations for business and investment in Asian region. Over the years, South Korea has gained its traction as one of the preferred destinations for foreign investment as well as the strategic revenue to enter the markets nearby. As such, the business-friendly environment in South Korea has attracted the eye of foreign investors to setup their company in the country.
A Snapshot of Advantages of Registering a Company in South Korea
100% foreign ownership – South Korea company formation allows 100% foreign ownership, and requires only 1 director for a limited liability company.
Tax incentive- Company tax in South Korea will be reduced from 25% to 20% of recent years.
Ease in setting up a company – South Korea is one of the easiest Asian countries to register a company.
Steps to Register a Company in South Korea
1. Decide the business type
There are five forms of business entities available in South Korea:
a) Joint stock company (chusikhoesa) – This type of company is the most common business type in South Korea, especially to large business requiring large amounts of fixed capital and continued procurement of funds. It offers shareholders limited liability (they are only liable to the amount of their contribution to the company's share capital) and the shares are generally freely transferable.
b) Limited liability company (yuhanhoesa) – This type of company suits a small or medium-sized business owned by a small number of persons. Just like a joint stock company, the liability of all shareholders is limited to the amount of their share capital contribution to the company. However, transfer of equity is limited, and the company is not open to the public.
c) Private limited company (yuhanchaek-imhoesa) – Generally, this type of company is similar to a limited liability company, just that there are some specific regulation applies to private limited company. In contrast with a limited liability company, a private limited company is a type of trade association.
d) General partnership company (hapmyunghoesa) – Members bear direct, joint and unlimited liability in relation to the business's creditors. In principle, all members bear rights and obligations relating to the implementation of partnership affairs and the representation of the partnership. This vehicle is appropriate for an enterprise jointly owned by a small number of persons with a close association.
e) Limited partnership company (hapjahoesa) – This type of business consists of at least one member with unlimited liability and at least one member with limited liability.
2. Open a Korean bank account
Having a Korean bank account will prove your ability to invest in Korea. The document required for account opening is your passport. A deposit in a lump sum of amount that is equivalent of 50 million won (about $40,900 in U.S. dollars) has to be wired from an account outside the country in your name to the your Korean bank and designated "For Investment Purposes Only." Get the proof of payment from your Korean bank after the deposit in order to start the paperwork for your business registration.
3. Apply for special permissions or license
Apply for special permission or license at the local district office (if your business requires permission to open).
4. Scout a location for your business
Find a suitable location and be sure that the location and property are zoned for the type of business you wish to run.
5. Business registration
a) Name your business.
b) After checking the company name, uploading incorporation documents as well as filling company information, applicants can process to the payments for the corporate registration tax bill as well as the registration fee.
c) Take your bank account documents and real estate lease to your local district office.
d) Submit your documents and the application with required fees for processing.
6. Apply for a tax registration payment certificate
The next step is to apply for a tax registration payment certificate. The local district office will issue the certificate when you present your passport, business name registration and bank account documentation.
7. Nominate a tax agent for your business
Nominate a tax agent who will be financially responsible for your business and makes sure your taxes are paid even if you are not in the country.
8. Apply D-8 visa
Apply a D-8 visa so that allows you to live in Korea and make money. The documents needed for this visa application are as follow :
your visa application or a previously issued, valid visa,
passport,
business registration certificate,
tax certificate, documents from your tax agent,
proof of payment of the bank deposit for the "investment money" purpose, your office lease and your bank book.
The D-8 visa is valid for six months and could be extended under certain conditions: if your taxes are current and documentation such as receipts and invoices can justify that your business is thriving.
On a final note, company registration in South Korea is relatively easy if compared with its peers. If you plan to expand your business to South Asia and you need assistance to register a company in South Korea, our partner Osung Accounting Corporation is always here to assist you.