This page is also available in:

Melayu (Malay)

简体中文 (Chinese (Simplified))
Guide to Start Business in Malaysia
Ranked at 24th in 2018 World Bank's Ease of Doing Business, Malaysia is fast gaining traction as one of the favourite investment destinations to do business and building a business. Though the high ranking in the World Bank's Ease of Doing Business signifies that starting a business in Malaysia is not that difficult, it could be a daunting task without proper guidance for how to register a business in Malaysia. Thinking what business to start? This guide serves as your comprehensive how-to guide to starting your business in Malaysia as well as to help you to navigate the ins and outs when starting a business in this country and know how to register a business in Malaysia.
Before You Start a Business in Malaysia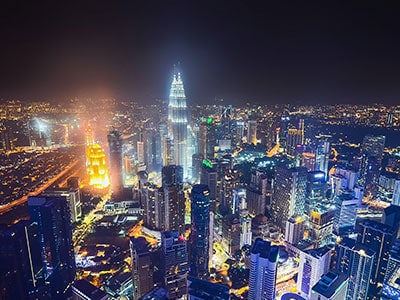 The very first step of the journey is to find out "why do you want to start a business?" Though it sounds common and ordinary, it is a very important question before you start a business and building a business. It is because it helps you to sort out your intention and reason why do you want to start a business. Once you figure out the purpose of starting a business, you can start by asking yourself:
Do you have any special skill?
How do you fund your business?
How much capital do you need/have?
What is your business idea?
Have you carried out any market research?
How Do You Start a Business in Malaysia?
Have a business plan in place
No matter what type of business you want to do or what business to start, a business plan is one of the crucial steps if you are thinking about starting a business in Malaysia. While having a business idea is like having the basic ingredient in meal prep process, it also helps you to understand the market and get to know what others are doing.
If you do not have a business plan, create one
Bear in mind that a great business idea can be a great business idea only if it is paired with a well-written business plan. You can start drafting your business plan with a market research – conduct a market research to know who are your potential competitors within the market (by understanding their strength and weakness), what are the current market trends as well as potential risks. Do remember that a good business plan will help you to see where your company is going, what are the challenges ahead, and what do you need to do to sustain the business.
Evaluate your finance
Get to know how you are going to fund your business. While starting any type of business always has a price, you can start with a marketing budget. This is a crucial step that allowing you to find out what type of business financing solution your business need.
Decide the business type
There are several different types of business entities available in Malaysia. Every business entity has its own compliance requirements, tax structure etc.
Name your business
Every business needs a name. A good business is more than just a brand name – it is also part of your marketing strategy and brand identity. Run a name check after you have handpicked the business name:

complete Request For Availability Of Name form and submit to Suruhanjaya Syarikat Malaysia ("SSM"); and
you need to pay a fee at RM30.00 for each name applied

After the name check, register the name with SSM to get approval from the Company Formation in Malaysia.

Scout for a business premise
Just like a good business name, a good business location is part of your marketing strategy.
Registered office address
In Malaysia, every business must have a legally registered local office address.
Prepare the incorporation documents

Memorandum and Article of Association / Constitution
Statuary Declaration By A Director Or Promoter Before Appointment
Declaration of Compliance
Company name's approval letter from SSM (one copy).
Identity card of every director and company secretary (one copy each).

Incorporate your company
You need to submit the Incorporation Documents to SSM within the three months from the approval date of the company's name by SSM. You will need to apply for a new name search if you fail to lodge your incorporation documents to SMM within 3 months.
Pay registration fees
The Company registration fee is RM1,000.
Issuance of a Certificate of Registration
You will get your new business Registration Certificate within one hour from the payment transaction of registration fee is made.
Are There Any Business Grants Available?
Little do people know that Malaysian government does have financing schemes to help entrepreneurs and SMEs. Apart from the financing schemes, Malaysian government are also providing grants to help businesses to grow, as follows:
Ministry of Energy, Science, Technology, Environment & Climate Change ("MESTECC")
Ministry of Finance ("MOF")
Ministry of Communications and Multimedia ("KKMM")
How to Start a Small Business in Malaysia?
Many people aim big when come to start their own business, while some people prefer small business. The intentions of starting a small business vary from individual to individual – Some people want to have more quality time with family; some people want to venture the journey as an entrepreneur; and there are people who want to have more flexibility in their working life.
Like many other countries, small businesses are mushrooming in Malaysia – more and more people are starting a small business in the country. From fashion business, e-commerce store to affiliate marketing, Malaysians are venturing the opportunities and possibilities of small business. Foreigners, too, can opt to start their small business in Malaysia.
No matter you are a local entrepreneur or foreign investor, you can start a small business in Malaysia.
First, you need a well thought of business plan together with your budget and marketing plan before you move to the next step – incorporate your business.
The following steps include:

Name your business (always remember to do a name check)
Look for suitable and strategic office location

Company incorporation:

A Company is the common form of business entity for small business and professional bodies.
How to Start a Business from Home?
A home-based business, as the name suggests, is a business where the primary office is located in the business owner's home. Many Malaysians are exploring the niche market of home-based business. Precisely speaking, more and more people are starting business from home. While the idea of working from home or starting a home-based business sounds fascinating, not everyone knows how to start a business from home.
Figure out what kind of home-based business you want to do:
First thing first, find out what kind of home-based business you want to do (below are the popular home-based business options):

Home Care Business (for children aged 12 and below)
Home Child Care
Elderly Care
Home-based Accountant and Bookkeeper
Consultants
Online Business
Website Design
Professional Blogging
Home-based bakery
Home-based tutor
Nail parlour
Gadget Repair Business
Pet care
Virtual assistant
Laundry business.

Get down to business
Then, draft a home-based business plan together with your marketing strategy and financing solution. While you need not scout for a business premise, you should name your business and incorporate it.
Incorporate your home-based business
In Malaysia, you can incorporate your home-based business as a Company.

You can choose to do it on your own, or engage a professional company registration company to help you to start your business. 3E Accounting Malaysia is always at your assistance! Do contact us to find out more about our company incorporation services as well as our affordable company registration packages!
Let us cut the chase, starting a business in Malaysia promises a good Return On Investment to your business. Whoever plans to start a new business in Southeast Asia, be it a small business or big investment, Malaysia has a lot to offer.