Understand the Jurisdictions Setup Requirement Before Proceed Your Register Company in Namibia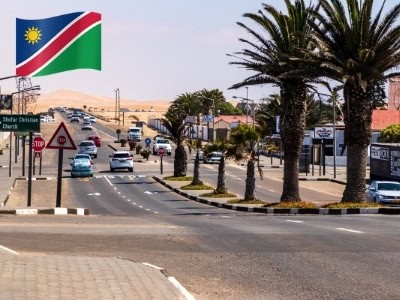 Namibia is a country in Southern Africa that highly depends on mining as its economic activity. The country is rich in mineral deposits like diamonds and uranium, which accounts for their 50% Export Income. In fact, with the terrestrial mining starting to dwindle, the shift has started to focus on marine mining. Small players employ divers to mine along the seabed part of the water while big players employ sophisticated machines that can go under the water of the Atlantic Ocean and comb and suck sediments from the seabed.
Mining in Namibia provided an estimated 6,000 – 8,000 jobs for its citizens between 2007-2014 and still continues to grow at present. Aside from diamonds and uranium, the country also supplies gold, copper, coal, zinc, and some rare earth minerals.
Aside from mining, people in Namibia rely also on Agriculture as a source of their income. Some of the Agricultural activities known in the country are the production of fruits, vegetables, and crops, and the ranching of livestock.
Business Sectors You Can Invest in Namibia
Aside from mining, there are other business sectors in Namibia where Businesspersons can make their investments. This is not an exhaustive list but here are some of those:
Agriculture and Agro-industry – Though it was already previously mentioned, there are still further aspects of agriculture where businesspersons can venture in. These are ostrich farming, food processing of agricultural products, production of grapes, olive oil, jojoba, and cotton.
Energy Source – The opportunity for energy and oil exploration in Namibia is great for investors. The country is not only rich in oil but can also with some other gases that can be a source of energy when explored and processed.
Fisheries – Namibia is rich in Marine Resources. There's an opportunity for catching and selling live fishes as well as canning and preserving these.
Tourism – With a good infrastructure of roads, airport, and telecommunications, tourism in Namibia is booming. The country is a major destination in Africa when it comes to ecotourism. Some of the places recommended to visit are Windhoek, Walvis Bay, Swakopmund, Kaokoveld, and the different National Parks in the country.
Pharmacy – Life expectancy can be increased by certain factors. To name some, these are Access to Clean Water, Access to Hospitals and Medical Services, and Access to Pharmacy and Medicines.
Hotel and Restaurants – As the number of tourists increases, the need for hotels and restaurants increases as well. International travellers coming in the country are the ones on the top list to patronize these establishments.
The Benefits You Gain in Investing in This Country
Namibia has a lot of competitive advantages when it comes to business. Top on the list is the political stability of the country. As a businessperson, you would want laws that are friendly to your business and can provide you with transparency which can be provided by the lawmakers in a politically stable state. Aside from that, Namibia offers the following business advantages:
The abundance of Natural Resources – Not only Namibia is rich in diamond but also in other natural resources like mineral deposits, rich fishing ground, and different agricultural products that also serve as raw materials for the manufacturers in creating different products and services.
Namibia is a signatory to the Cotonou Agreement – This agreement gives the European Union a duty-free access to a wide range of Agricultural Products and Services.
A member of the South African Customs Union (SACU) – Members of this organization entitles them for duty and free quota access to the South African Market.
Namibia created a law named Africa Growth and Opportunity Act – This allows duty and quota-free access to the US Market.
Fiscal Incentives – With the use of their Export Processing Zone (EPZ) regime, the country offers rewards to certain business activities.
Infrastructure – Goods and services must be transported at the right place and at the right time. With Namibia's good infrastructure, all these are possible.
The Process of Registering a Business in This Country
The agency responsible for registering a business in Namibia is the Ministry of Industrialization, Trade and SME Development, through its agency of Business and Intellectual Property Authority (BIPA). You need to secure and fill out the following documents in order to register your business in the country:
Documents Required
Two Passport –type photographs of each applicant;
Highest Educational Qualification;
Previous work references;
Police work references;
Marriage Certificate;
Proof that the position was advertised [Copy of advert to be attached];
A motivational letter providing a synopsis of the applicant;
Comprehensive business proposal [Business Plan];
Proof of financial resources/bank statement, list of assets, equipment and machinery imported into Namibia, audited reports;
Proof that the business was registered in Namibia [Copy of registration certificate as well as share certificates to be attached];
Copy of lease agreement of business premises or proof of ownership of the business property;
Copy of CV;
N$80.00 handling fees to be paid at the Ministry of Home Affairs and Immigration.
Forms to Be Completed
Main application form;
Radiological report;
Medical report;
Deed of surety/Repatriation
Representation by employed/Work offer [employees only];
Business questionnaire [all business people];
Multiple visa entry form;
Outline for a business plan;
Payable fees.
Form a Company With 3E Accounting
If the process of doing business in Namibia is difficult for you, we at 3E Accounting would like to make it easy by providing you with comprehensive, all-in-one services. Further, your decision to choose us to help you register your company in Namibia will be the best decision ever as we always commit to give excellent services.
Should you have further questions on how to register the business in Namibia, Contact us, the 3E Accounting team today.