CMCO Now Extended to All but the Three States in Malaysia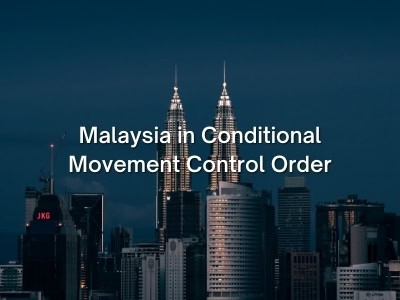 As the third wave of Covid-19 hits Malaysia, the government, with the Health Ministry's advice, implements conditional movement control order (CMCO) in Malaysia for all states except Perlis, Kelantan, and Pahang. The implementation of CMCO was at targeted areas in Sabah right after the State elections. After this, Klang Valley had a spike in infection rates following Sabah voters returning to the Peninsular. The first large scale CMCO applies only to Sabah, Kuala Lumpur, Selangor, and Putrajaya, from 14th October 2020 to 27th October 2020. It was then extended for another two weeks. The government recently decided to prolong the CMCO to all states in Malaysia except Perlis Kelantan and Pahang for another for weeks, which now the CMCO is expected to end on 6th December 2020.
Economic Activities Allowed
With the conditional movement control order in Malaysia, activities involving groups and social gatherings are prohibited. Most economic sectors are open for business as usual. This includes accounting firms operating with strict adherence to the Standard Operating Procedures (SOPs). They would need to apply to the Sabah Disaster Management Committee to run for Sabah accounting firms. The accounting institute would be applying for blanket permission for accounting firms in Sabah to operate as usual. In the meantime, firms may apply for specific authorization for them to work if the need be. Firms that need more information may look into the Sabah government official website and email them the necessary questions.
Inter-district Travel
While the MCO focuses on inter-state travelling, Malaysia's conditional movement control order is now restricting inter-district travel. For workers and employees that need to cross-district, borders must bear their work pass or consent letter from respective employers. These items are essential if employees have to go through roadblocks, where authorities will request to see the papers. Without any of this proof, the police have every right to ask employees to return home. Employers are encouraged to conduct work from home for their employees where applicable. The move is in line with breaking the chain of infection without depressing the livelihood of many.
Punishment Awaits
Accounting firms must strictly implement the SOPs at their respective workplace to ensure everyone is safe and healthy. Any individual found violating the Prevention and Control of Infectious Diseases (Measures within Infected Local Areas) Regulations 2020 will be fined up to RM1,000 or up to 6 months imprisonment or both. Any person found guilty of obstructing a public official enforcing the CMCO may face up to an RM10,000 fine or 2 years' imprisonment, or worse, both. An individual found obstructing a public official is punished under Section 186 of the Penal Code.
CIMS
Throughout Malaysia, accounting firms must know that the Ministry of International Trade and Industry (MITI) is requesting companies to register on the Covid-19 Management System (CIMS). The system helps the Royal Malaysian Police (PDRM) to use the system for their reference. Firms can register on CIMS through https://notification.miti.gov.my/ only once.