SSM Initiatives Announced to Ease Movement Control Order (MCO) Burden
New Initiatives to Help Corporations Ease Their Burden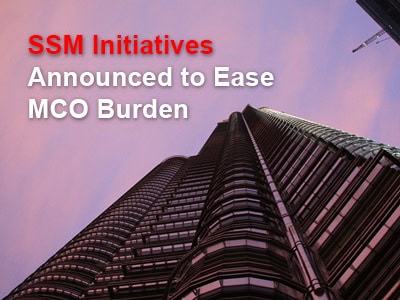 The Companies Commission of Malaysia (SSM) announced seven new initiatives to help the corporate sector ease their burden during the Movement Control Order (MCO).
SSM made the announcement on 10 April 2020. Out of the 7, two initiatives were added on as extra measures. These were included in the small and medium enterprises (SMEs) PRIHATIN Package (Additional Measures). These include:
A 30-day moratorium from the date the MCO ends for businesses to lodge all affected statutory documents with SSM. This applies to transactions under the Limited Liability Partnership Act and Companies Act. Late lodgements are exempted while the moratorium period is ongoing.
Extensions of Time (EOT) will be granted by SSM. These extensions will give companies 3 months to lodge the necessary financial statements. The RM100 application fee will be waived.
The other 5 initiatives introduced by SSM are aligned with the Prime Minister's call to ease business's financial burden during this unprecedented time. The 5 additional measures include:
Section 241 of Companies Act 2016 for company secretaries to fulfil their CPE requirements, until December 31, 2020 will be extended (subject to terms and conditions).
Section 466 of The Companies Act 2016 indebtedness value will increase from RM10,000 to RM50,000. This will be until 31 December this year. Businesses will also be given 6 months to respond to the notice of demand.
2020 Compliance Campaign of the Companies Act 2016 deadline will be extended to 30 June 2020. SSM will provide a 90% compound reduction rate.
Companies Limited by Guarantee (CLBG) will be exempted from getting approval. The approval relates to the solicitation of donations coming from the public meant to assist those who have been impacted by Covid-19.
CLBG's can go ahead and organise a solicitation of donations even without prior approval from the Inland Revenue Board (IRB). However, once the MCO ends, these companies will need to make an official application within 30-days.
EOTs will be granted for Annual General Meetings (AGMs). The extensions will be for a period of up to 3-months. The RM100 extension fee will be waived at this time.