Believing in Shared Prosperity, Malaysia Signs the RCEP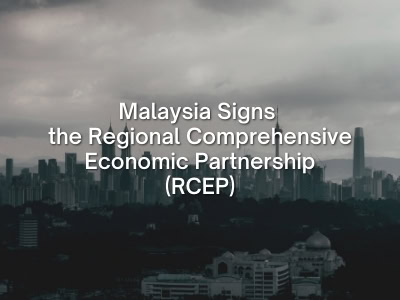 The United States of America and China are two economic giants that are always competing. When one of them envisions to influence an economic region, specifically the Asia Pacific, the other will create a similar agreement. The Regional Comprehensive Economic Partnership (RCEP) began when China, as the key member, offers to create a single free trade agreement within the Asian region. It is common to know that most countries usually sign free trade agreements to ease trade activities. But with so many free trade agreements, it may be too much of a deal for a country. Through RCEP, it unites and combines into one free trade agreement that is specific for use between Asia Pacific nations. After years of discussion, Malaysia joins the largest trade bloc for its regional benefits.
Benefit to Business
Comparatively, Malaysia itself has a limited market. Thus, exporting beyond Malaysia is a way to grow and expand businesses. With the signing of RCEP, it will benefit companies looking to ship to any of the 15-member nations via a single trade agreement. The total allocation of RCEP will lower or eliminate tariffs on a broad range of goods and services. It will also establish regulations on investment, competition, intellectual property, including digital copyrights. As much as RCEP wants all Asia Pacific nations to participate, India is out of RCEP for the time being.
Largest FTA in the World
Besides China, Japan, South Korea, New Zealand and Australia are also strong economies that will be bringing in the massive capital, production and population. With that in mind, RCEP is going to provide the largest FTA in the world as it makes up one-third of the global economy. The United States of America may have changed its leadership, but it has no impact on RCEP as it is run mainly by ASEAN nations. The memorable signing took place virtually during the 37th ASEAN Summit, hosted by Vietnam.
Similar but Not Entirely
Malaysia has also signed the Comprehensive and Progressive Trans-Pacific Partnership (CPTPP) but has yet to approve anything. It remains unratified until there is an assurance that the domestic production and economy are protected. With the CPTPP, there are uncertainties about the security of domestic industries, government procurement and other matters. With the RCEP, the sense of security is more evident, and the concerns are similar to other nations as well. Hence, we have common ground and understanding on how to work things out. Thus, when Malaysia joins the largest trade bloc, it is only logical as well as rational.
Digital Economy
Malaysia and ideally, most nations are focused on Covid-19 and the economic impact. Before Covid-19 set a foot onto Malaysian shores, the government was urging for businesses and companies to work towards digitalisation. Now with the fear of the pandemic, the acceleration of the digital economy is more than optional. The more traditional business model must give way to the newer business model that utilises digitalisation. Businesses and trades going online have a better market share as it is purported to reach a broader market on the world wide web.