International and Local Businesses Still Committed to the Country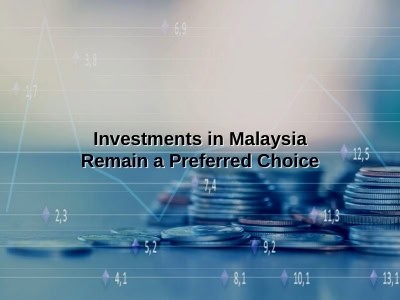 Investments in Malaysia continue to be strong, reflecting positive investor confidence in the country's potential and strength. Both local and international businesses continue to make Malaysia their preferred investment choice.
Multinational and international corporations continue establishing vendor development programmes in Malaysia despite the Covid-19 pandemic. They are also continuing to invest in supply chain management initiatives, working alongside local suppliers and companies.
Validating Malaysia's Position
Malaysia's strong policies and measures continue to help it hold strong in various global rankings. Investments in Malaysia are still going strong, helped by the fact that the country is the fifth destination among emerging economies per a Bloomberg report. Its stable financial and fiscal position combined with the potential for rapid economic recovery has contributed to restoring investor confidence in the country.
Efforts to Rejuvenate the Economy
Several notable projects were approved within the first nine months of 2020. These projects included the following:
LEM (Switzerland)
Dexcom, Ultra Clean (USA)
Keysight Technologies (USA)
Bosch (Germany)
Nippon Electric Glass (Malaysia) Sdn Bhd.
Malaysia also introduced a short-term economic recovery plan (PENJANA) in mid-2020. The Finance Ministry is also working alongside other ministries and agencies to ensure incentives are readily available for keen investors.