DSOM Says This Is the First Positive Year-on-year Growth for 2021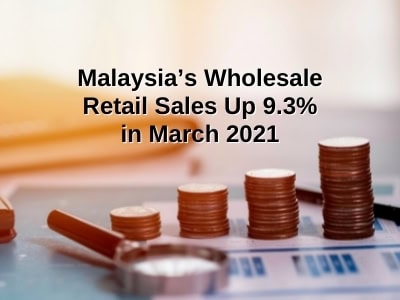 The March retail sales in Malaysia were up by 9.3%, taking the total to RM112.8 billion. According to the Department of Statistics Malaysia (DSOM), this is the first positive year-on-year growth for 2021.
Two sectors were largely responsible for the increase. This was the motor vehicles (up 40.7%) and retail trade (up 10.5%). In addition, wholesale trade also experienced an upward swing with an increase of 1.8%.
Positive Growth Since the Covid-19 Pandemic
When compared to the wholesale and retail trade results from March 2019 before Covid-19, these sectors experienced a growth of 3%.
With the withdrawal of the i-Lestari and i-Sinar, plus the boost in commodity prices like rubber and oil palm, Malaysia's March retail sales growth was driven by more disposable income from consumers.
Consumers were also incentivized to purchase motor vehicles with the sales tax exemption incentive.
As for the e-commerce space, online retail sales there continue to record year-on-year growth of 18.3%.
Start Your Retail Sales Business in Malaysia With 3E Accounting
With economies slowly on the mend, investors are beginning to look toward launching new businesses once more. As one of Asia's leading business hubs, now is the time to start thinking about building a business base in Malaysia.
No matter what your business needs are, 3E Accounting is here to help you launch your dream. No business is too big or too small for us to handle, we've got you covered from start to finish. For more information about our Malaysia Company Incorporation Services, get in touch with the 3E Accounting team today.