The Year 2020 is a Surprising Year for the Malaysia Economy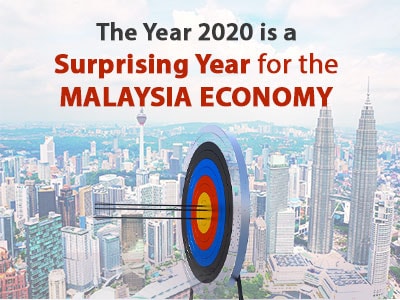 The year first quarter of the year 2020 has turned out to be a challenging period due to the Covid-19 pandemic. Everywhere across the globe, countries are reeling from the economic downturn. No country escapes this slump. Therefore, it is a pleasant surprise that for the first quarter of 2020, Malaysia GDP for 2020 is looking to sustain despite downturns all around the world.
Unexpected Growth in Malaysia Economy
Who would have guessed that even when in the harshest conditions, Malaysia would continue to grow the economy? Well, that is exactly what happened for the first quarter of the year 2020. Economic experts were expecting that the first quarter would see a decline in economic growth. But, the government's speedy actions is seeing a positive outcome. The positive growth comes as a positive surprise to economic soothsayers. The general expectation for the local economy was -0.1 per cent year-on-year. For one non-local bank, the median expectation was even lower, at -0.4 per cent. But the data proved otherwise. Malaysia managed a 0.7 per cent expansion for its gross domestic product (GDP), a positive surprise to most economists and analysts.
Moving On
During the Movement Control Order, only foodstuff and delivery services were active and operational. Hence, there was a rise in online shopping and delivery services. Logistics partners throughout the country have made it possible for micro and SMEs to sustain during harsh times.
The central bank of Malaysia, Bank Negara Malaysia, is predicting the economy will weaken in quarter two. It hopes to see an economic recovery in quarter three. However, forecasting the economy amid Covid-19 uncertainties is very challenging. Nevertheless, the government is now allowing for trade and industrial activities to reopen. This is likely a tell-tale sign of growth improvement and should accelerate in 2021.