The Malaysian Accounting Standards Board Publishes the Interest Rate Benchmark Reform As Issued by IASB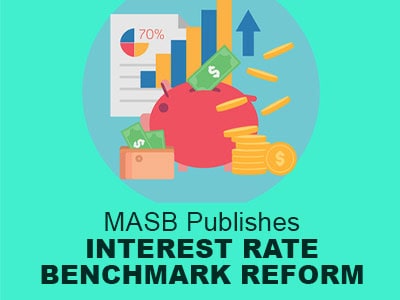 The Malaysian Accounting Standards Board has released the Interest Rate Benchmark (IRB) Reform on 31st October 2019. The Interest Rate Benchmark Reform will apply as amendments to MFRS 9 Financial Instruments, MFRS 139 Financial Instruments: Recognition and Measurement and MFRS 7 Financial Instruments: Disclosures. These amendments are the same as the amendments issued to IFRS 9, IAS 39 and IFRS 7 by the International Accounting Standards Board (IASB).
Changes to Requirements
The interest rate benchmark reform comes as amendments to some specific hedge accounting requirements. It is meant to provide relief from potential effects of the uncertainty caused by the interbank offered rates (IBOR) reform. The amendments are in the form of temporary exceptions from applying specific hedge accounting as published on the MASB website. This accounts only when the need arises. When implementing the amendments, companies will continue using hedge accounting requirements. This must come with the assumption that the interest rate benchmark of which the hedged item, risk or instrument are based, is not adjusted as a result of the reform.
Extra Information to Investors
Additionally, the amendments require companies to provide supplementary information to investors about their hedging relationships, if any, are directly affected by these ambiguities. As such companies are not required to apply the MFRS 139 reflective assessment only if the effectiveness is beyond the 80 – 125% range during the ambiguity period arising from the reform. Companies must then continue to apply hedge accounting to hedging relationship.
Effective Date of the Interest Rate Benchmark Reform
Companies will need to apply the amendments where necessary, to financial statements of annual periods beginning on or after 1st January 2020. Companies are allowed to use the modifications earlier than the stated date, if possible. The Notice of Issuance is available and can be downloaded from the MASB website. For further clarification, amendments to the three standards are available for viewing right here.