3E Accounting Officially Recognized as OCBC Platinum Partner Award Recipient
Kuala Lumpur, 15 August 2017 – 3E Accounting Malaysia, a professional incorporation, accounting, tax, immigration and compliance services company today announced that they have been recognized as an OCBC Platinum Partner. 3E Accounting has long been known as a leader in the accounting, taxation, and legal field in Singapore and Malaysia, and is honoured to have received this very prestigious award from OCBC.
The OCBC Platinum Partner award is not one that a lot of companies in Malaysia can easily attain, as there is a certain top-notch level of service that needs to be met, and only the best of the best are given this award. Maintaining a good working partnership with OCBC, 3E Accounting has been able to assist their clients and provide the best company setup services in the country.
3E Accounting takes this award as a great honor and are very proud to be recognized in Malaysia for all the passion and hard work the company has been putting forth all this years. 3E Accounting is dedicated to being a one-stop center solution for every business owner's needs, helping small businesses, and they will continue to help small businesses in Malaysia establish a company with the utmost efficiency.
The OCBC Platinum Partner Award is another great addition to 3E Accounting's other milestones that the company has achieved over the years. Since its inception in 2014, 3E Accounting has been proud to receive a number of accomplishments and recognitions for its years of excellent service. In 2014 alone the company was recognized by the ACCA as an Approved Employer, a program which only names entities the ACCA recognizes has having a high standard of staff training and development programs.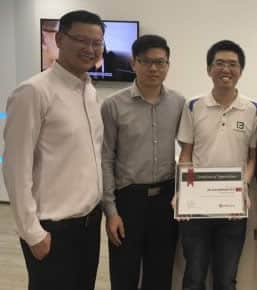 In 2015, 3E Accounting officially became certified by the Malaysian Institute of Accountants, proving that the company has been recognized as a qualified accounting firm with the highest professional standards of service. In that same year, the company had the great pleasure of being invited by University Tunku Abdul Rahman to participate in its career fair speaking to students and imparting some of the company's wisdom on those who would one day serve as future accountants. 3E Accounting was also featured in PR Web, a great honour for the company as the write-up about the company was featured on many other prominent news portals as well such as Yahoo! Finance, Globe News Wire, Street Insider and International Business Times.
In 2016, 3E Accounting was recognized by Malaysia Brands as a top player firm in Malaysia. OCBC's Platinum Partner Award is another step in the right direction towards 3E Accounting's mission to become the best accounting firm in Malaysia.
About 3E Accounting
3E Accounting is the best consulting firm in Singapore and Malaysia, providing cost-effective professional solutions for accounting, taxation, legal, marketing and clerical support. 3E Accounting is led by a team of group accredited and experienced professionals, led by directors who are members of the Association of Chartered Certified Accountants (ACCA).
About OCBC Bank
OCBC is one of the longest bank establishments in Singapore. OCBC was formed in 1932, a result of a merger between three local banks, and it is now the second largest financial services group in Southeast Asia in addition to being one of the world's most highly-rated banks. Bloomberg ranked OCBC as the world's strongest bank in 2011 and 2012.
OCBC, together with its subsidiaries, offer a broad array of specialized financial and wealth management services which range from consumer, corporate, investment, private and transaction banking, treasury, insurance, asset management and stockbroking services. With branches in Singapore, Malaysia, Indonesia and Greater China, OCBC has a growing network of over 450 branches and representative offices in 17 countries and territories.