3E Accounting Malaysia Discover Business Chances in the Belt and Road Initiative (BRI)
First introduced by Chinese President Xi Jinping in 2013, the Belt and Road Initiative ("BRI") has revived the historical image of ancient trading route, Silk Road with China's modern-day global development strategy. Malaysia's location and its strategic geopolitical significance in Southeast Asia has given it an edge in the BRI. Many accountancy firms in Malaysia have set up China desks to leverage the positive impact of BRI. The founder of 3E Accounting Malaysia, Lawrence Chai, sheds light on how medium-sized firms capitalised on the BRI to attract more Chinese customers, as featured in the recent article by ACCA Magazine: Bridging the Gap. Read more in PDF.
Benefits of the Belt and Road Initiative
While the Big Four and many large firms responded to the BRI by setting up a China desk to help Chinese companies and investors, medium-sized accounting firms such as 3E Accounting have adopted a different business strategy to target SMEs from China rather than huge government-linked corporates. Armed with a global network of network offices in 60 countries, 3E Accounting leverages its global accounting networking group to help clients to tap into the BRI anywhere of the world. "We are confident that BRI is benefitting the Malaysian economy and business community, especially accounting firms," Lawrence commented. The statement is evidenced by the influx of Chinese investors in both Malaysia and Singapore where the vibrant investment climate and development opportunities in infrastructure and the have benefitted many Chinese investors.
Malaysia is definitely one of the countries benefitting from the BRI. Though 3E Accounting does not have a dedicated China desk, the firm is winning the race with its global accounting network and professional one-stop solution and dedicated full compliance with Malaysian laws. A majority of 3E Accounting's Chinese clients are SMEs in e-commerce businesses that need a helping hand to setup their companies, added Lawrence. "As a full-fledged accounting firm that offer one-stop solutions, we can provide all the required compliance services, ranging from secretarial, accounting and tax, to company registration, to our Chinese clients," Lawrence explained.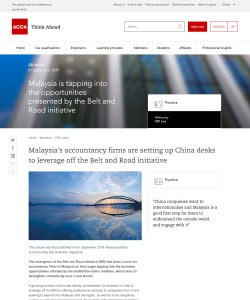 ACCA Global