Former Malaysian Prime Minister Makes Historic Return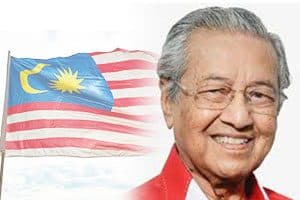 Malaysian prime minister Mahathir Mohamad created history when he became the world's oldest political leader after claiming a shock victory in the nation's recent general election. He is also the country's longest-serving Prime Minister in Malaysia after previously holding the office from 1981 to 2003. The 92-year-old was forced out of retirement following numerous calls from the people who were at wits end over the numerous corruption scandals and abuse of power surrounding their former premier, Najib Abdul Razak.
The Big Win 510
Mahathir joined the opposition to fight the Barisan Nasional coalition. His victory with Pakatan Harapan put an end to the BN government's 60-year rule after securing 121 parliamentary seats; more than the 112 threshold required to form a government. Mahathir boasts a political career spanning more than 70 years, after first joining the newly formed UMNO (United Malays National Organisation) in 1946, which was a founding member of the Barisan Nasional coalition.
Mahathir Background
He was born and raised in Alor Setar, and excelled academically before becoming a doctor. He made his parliament debut in 1964 but only served one term after being expelled from the UMNO following a falling out with former Prime Minister Tunku Abdul Rahman. However he was readmitted to the UMNO and Parliament following Abdul Rahman's resignation, and soon gained numerous positions in government. He became Deputy Prime Minister by 1976, and took on a number of ministerial roles including Minister of Trade and Industry in 1978, Minister of Defence in 1981, Minister of Home Affairs in 186, and Minister of Finance in 2001. Mahathir took over as the Prime Minister of Malaysia in 1981 following the resignation of his predecessor Hussein Onn. During his premiership, he won five consecutive general elections and fended off a series of political rivals. Under his rule, Malaysia enjoyed a period of rapid modernisation and economic growth, and the country saw large infrastructure developments.
Mahathir – Anwar
Following his recent victory, Mahathir said they were not seeking any form or revenge, but only wanted to restore the Rule of Law. He has since appointed Anwar's wife, Wan Azizah Wan Ismail as his deputy prime minister, while also playing a key role in securing Anwar's release from prison.