What is Sultan of Terengganu's Birthday in Malaysia All About?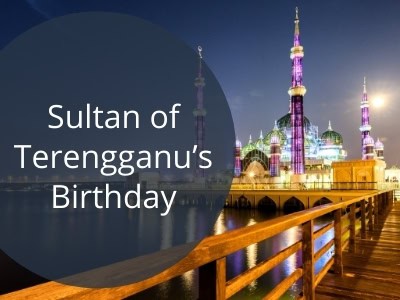 The Sultan of Terengganu's Birthday is a public holiday in the Malaysian state on April 26 every year. It honours the Sultan for all his efforts in serving the city.
The current Sultan Mizan Zainal Abidin was born on January 22, 29162. He is the 18th sultan of Terengganu whose lineage dates back to 1725. Mizan is the youngest ruler of Malaysian federal after getting appointed as the Sultan of Terengganu in May 1998. This was after his father, Sultan Mahmud, died.
Being in the position of a Sultan, he is considered the constitutional ruler of the state of Terengganu as wellTerengganu's state. Mizan was crowned as Sultan of Terengganu in March 1999.
Things to Do During Sultan of Terengganu's Birthday in Malaysia
You can treat yourself during this holiday. Stroll around the state and just enjoy a day outside of work. Take a breather before returning to your busy life.
Chill at Pantai Batu Buruk
If your idea of taking a rest is lying around the beach, Pantai Batu Buruk is the perfect destination for you. It is among the most popular beaches in the city. It features a long seashore that displays amazing scenery, taking your mind off of the hustle and bustle of the city. It is located near the Cultural Center Stage as well, so you can visit thereafter to catch some shows.
Celebrating Culture in Chinatown
In Terengganu, a large population of Chinese is residing. This is why the city has its own Chinatown and celebrates the culture and tradition of Chinese residents. The Chinatown, known as Kampung Cina in Malay, was founded during the 19th century. You can find here traditional shops and houses that are constructed using Chinese style. It is included as a heritage spot.
See the Boat Building in Pulau Duyung
It is located near the city. Pulau Duyung is the largest island in the nearby estuary. The island is known for its boat building businesses. Visiting this place, you can see how the boats are being constructed in the same way and with the same tools for centuries.
How Sultan of Terengganu's Birthday in Malaysia is Celebrated
Sultan of Terengganu's birthday is celebrated to give honour to the highest ruler of the city. However, it is also the day when the Sultan himself recognizes Terengganu's citizens' efforts for their good deeds. Indeed, it is a good way to celebrate one's birthday.
During this day, there will be awards and recognitions being bestowed upon citizens who gave outstanding services to fellowmen.
In addition, there are special sermons and prayers held just for the state's ruler.
Venues and Special Events for Celebrating Sultan of Terengganu's Birthday in Malaysia
There are many places in Terengganu that you can visit during this holiday. Going to these places will allow you to be more connected with the city while learning more about it at the same time. In addition, travelling in the city can provide some refuge even though it is temporary.
Crystal Mosque
This mosque is an absolute beauty. It is a structure made of steel, glass, and crystal. Located in the Islamic Heritage Park, the mosque said to cost $80 million. The mosque can accommodate up to 1,500 people at a time. This iconic tourist spot was inaugurated in 2008.
Pasar Payang
A trip is not complete without buying some souvenir. In Pasar Payang, you can buy various local products that will make you remember your trip to Terengganu. You can buy things such as batik, silk, songket, brocade, brassware, local snacks, and even fresh produce.
Penarik Fishing Village
The fishing village is packed with picturesque scenery, making it popular among tourists. It has a laid-back atmosphere ideal for a picnic, paddling along the river, enjoying the view, or even watching colourful fireflies play hide and seek in the mangroves.